Outside link
This is an official web site of Entertainer MIKIYA.
You can link any page of this site freely without informing. Please write about Entertainer MIKIYA on your web site, blog, twitter or facebook.
All page except for the top page(http://mikkyun.nomaki.jp/) can be deleted during updating.
If you want your site and this site to link each other, please send me an e-mail.
Performer
Balloon Performer AKI: recommendation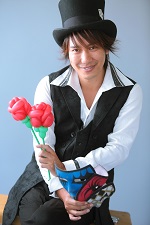 Performers Clan: a group of top-level performers in Kansai
Juggling
その他
MATRIX: a group of Brazilian music and samba
PU-PU(kanko): an illustrator (designer) loving hamsters